Booking of Meeting Room (Fully Booked)

Light gray – Reserved for Service Office, Light Blue – Available, Orange – Booked
You must be our Virtual Office Plus client in order to use our meeting room.
(Not applicable to Virtual Office Basic (Trivex) & Forward (Trivex/PLS) clients, only for Virtual Office Plus & Service Office clients)(Trivex / Paya Lebar Square)
At ServeHope (Branch Location at Paya Lebar Square), our meeting room is well-spaced for 4 pax: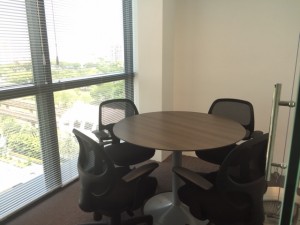 Available Booking slot – Monday to Friday, 9am – 5pm (min. booking of 2 hrs. S$20 per hour)(Close on Weekends & Public Holidays)
9-11am (Reserved)
11-1pm (Reserved)
1-3pm (Reserved)
3-5pm (Reserved)
T&Cs apply. 2 weeks of advanced booking is required. Subject to availability.
Steps to book our meeting room:
1) Check for available dates & time from the calendar above.
2) Make online payment first.
3) Submit online booking form below.
We will send a confirmation email to you within 1 working day upon receiving both payment and booking form.
Please print out the confirmation email sent to you and hand it to our staff on the day.
Cancellation is not allowed but you can choose another alternative date/time by emailing us.
Our email address is support@virtualserviceoffice.com
Do note that our meeting room is at 60, Paya Lebar Road ,#10-35, Paya Lebar Square, Singapore 409051.
Payment for Use of Meeting Room
We accept payment with


Please submit this form for booking of meeting room at PLS