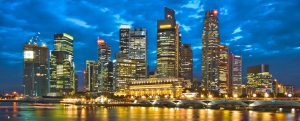 Photo
Singapore is going to be the financial centre of Southeast Asia, probably Asia, and likely one of the top financial centres of the world.
With a unique and captivating lifestyle and culture, Singapore has a tremendous amount to offer to the international business community.
Why is Singapore the perfect location to start their company or business?
→ Singapore is rated no. 1 in the world by World Bank for ease of doing business
→ Singapore is ranked one of the wealthiest nation in the world by Forbes.
→ Singapore is rated no. 1 as the most politically stable country in Asia
→ If you are trying to develop a service or product Singapore is a great place to start that.
International rankings of Singapore (Source from Wikipedia.)
Singapore is the Key Location
One important advantage of starting your business to Singapore is its convenient location. Singapore is situated in the heart of Southeast Asia, making it possible for your business to access.
Singapore's Changi Airport's priority on competitiveness, efficiency and professional service have helped make it the "Best Airport in the World" for many consecutive years. A hub in the Asia-Pacific region, Singapore's Changi Airport provides businesses with easy access to all major  countries.
Singapore is Business Opportunities
Singapore is known for its business environment, its ability to attract foreign investments and business entrepreneurs. In Singapore, you can turn your innovative ideas into businesses with ease, and achieve significant results. Minimal time is require to incorporate a company in Singapore, with providing assistance along the way. Singapore is one of the best country in Asia to set up and manage a business.